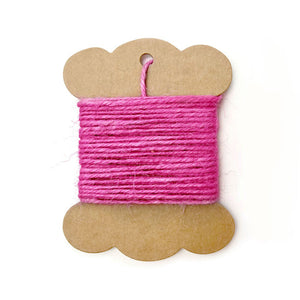 Fuchsia Jute Twine
Now $3.00

$3.00

Save $0
Tax included.
---
---
Fuchsia Jute Craft Twine is a versatile, eco-friendly material perfect for various decorative and practical projects. Its natural fibres make it flexible and durable, adding a rustic touch to your creations. It can be used for adding decorative details to your scrapbooking or gift-wrapping projects, it can even be used to attach tags and display hanging decorations.

Available in a variety of lengths, each cut and hand bound to a craft twine bobbin, you can store away safely until the next time inspiration strikes.

Specification
All lengths are cut to order. If you order 20 metres, you will receive a single piece cut to that exact length. However, if you order a combination of lengths, such as 20 metres and 5 metres, they will be split across two separate bobbins. If you require one continuous length please contact us.

- Made from 100% natural fibre
- Approx thickness of 1.5mm
- Bobbin is made from Kraft card
- Manufactured in the UK
- 100% biodegradable
- A sustainable product suitable for recycling and composting

*Please note that shades may vary*
*May fade after prolonged outdoor use and direct sunlight*
---
We Also Recommend
See more: Gift Wrap