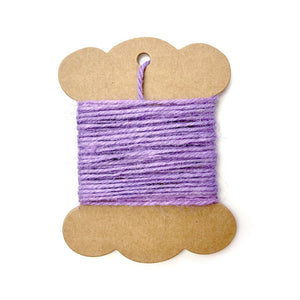 Lilac Jute Twine
Now $3.00

$3.00

Save $0
Tax included.
---
---
Elevate your crafting with our Lilac Jute Twine, where rustic charm meets modern elegance! This versatile twine adds a touch of whimsy and sophistication to your projects, whether you're wrapping gifts, embellishing DIY creations, or enhancing home décor. Crafted from eco-friendly jute fibers, it brings vibrant lilac hues and eco-conscious style to every knot and twist. Let your creativity shine and transform ordinary crafts into extraordinary expressions of your unique personality. With our Lilac Jute Twine, every project becomes a fabulous adventure!
Available in a variety of lengths, each cut and hand bound to a craft twine bobbin, you can store away safely until the next time inspiration strikes.

Specification
All lengths are cut to order. If you order 20 metres, you will receive a single piece cut to that exact length. However, if you order a combination of lengths, such as 20 metres and 5 metres, they will be split across two separate bobbins. If you require one continuous length please contact us.

- Made from 100% natural fibre
- Approx thickness of 1.5mm
- Bobbin is made from Kraft card
- Manufactured in the UK
- 100% biodegradable
- A sustainable product suitable for recycling and composting

*Please note that shades may vary*
*May fade after prolonged outdoor use and direct sunlight*
---
We Also Recommend
See more: Gift Wrap