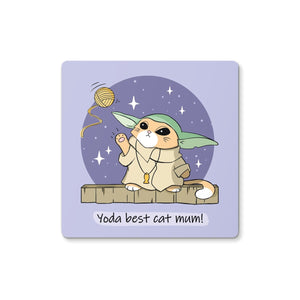 Yoda Best Cat Mum Coaster
Now $7.00

$7.00
Tax included.
---
---
If you're looking for the perfect gift for that wonderful cat mum that's both unique and practical, look no further than the Yoda Best Cat Mum Coaster! There's nothing like being a cat mum. The unconditional love, the never-ending cuddles, the purring... it's all so magical. And what better way to celebrate this special bond than with a Yoda Best Cat Mum Coaster! Featuring an adorable cat posing as baby Yoda in a Mandalorian inspired design, it includes the words "Best Cat Mum" printed across the bottom. So not only will it help protect the furniture from spills, but it will also remind them just how special they are. So go ahead and treat yourself or someone else to a Yoda Best Cat Mum Coaster today!
Not only is the Yoda Best Cat Mum Coaster practical it's also super adorable too! With a cute kitten dressed as baby Yoda set against a starry night, in beautiful pastel tones  this sweet cat illustration is sure to melt your heart and make your beverage experience all the sweeter. So if you know a wonderful cat mum who happens to be a star wars enthuasiat look no further than Yoda Best Cat Mum Coaster!  
Made from wood and cork our Yoda Best Cat Mum Coaster has a high gloss finish to prevent it from cracking or peeling. To extend the life of our Yoda Best Cat Mum Coaster, and keep it looking fresh and in tip-top condition always wipe it clean after use, and store it in a safe place.
Specification
PREMIUM COASTER - Made from 4mm thick medium-density fibreboard, this square mug coaster measures 9.5cm by 9.5cm is finished with a high-shine gloss and has a protective cork underside. 

Each unique design is printed using a sublimation process that protects and seals the design, helping to extend the coaster's life.


ECO CREDENTIALS - The materials used to manufacture this coaster make it recyclable. 


LAST BUT NOT LEAST - Designed by Paper Crate and Proudly Made in the UK


Disposal Notes
This item cannot be recycled at home alongside other household waste. How you dispose of this coaster will vary by council and their own recycling segregation processes. Please consult your local council recycling department before disposing of it.
---
We Also Recommend
See more: Mug Coasters